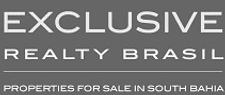 Agency
Exclusive Realty Brasil
Terravista - 45818-000 Trancoso
Description
Exclusive Real Estate broker in Trancoso, Bahia Brasil.

Private Broker for houses, pousadas, hotels, land and all properties in Trancoso, Arraial d´Ajuda, praia do Espelho and other locations in South Bahia. Specilization in real estate located within gated communities and beachfront, development plots, high-end properties, and houses with a high rental return.

Trancoso, Quadrado, Terravista Golf, Terravista Villas, Altos de Trancoso, Itapororoca, Itaquena, João Vieira, Praia do Espelho, Caraíva, Cumuruxatiba, Corumbau, Santo André, Santo Antônio.

Beachfront, Gated communities and condominiums, Development plots, Fazendas, Farms, Sea view, high end and luxury real estate, rental properties.

Full 360 degrees services: market research, property selection, personal visits, negotiations, legal and fiscal advice, etc..
Relevance

Max price

Min price

Size

Bedrooms

Newest listed
€ 4,887,900

This marvellous 21-room pousada, with panoramic sea views, located on a 16.000m2 plot, is side-by-side the historic square, the "Quadrado", at only a 1 minute walking distance....

Presented by

Exclusive Realty Brasil

ELITE

€ 6,156,300

Unique beachfront estate at walking distance from the center of Trancoso more info for serious candidates only...

Presented by

Exclusive Realty Brasil

PRESTIGE

€ 35,035,600

South Bahia´s most valuable development plot 1.4 km of beach consisting of two levels, allowing development of both a "feet in the sand" project as well as a project upon the...

Presented by

Exclusive Realty Brasil

PRESTIGE

€ 1,200,000

Trancoso style villa overlooking the beaches and sea of Itapororoca beach

Presented by

Exclusive Realty Brasil

PRESTIGE

€ 25,000,000

Arguably Latin America´s most beautiful beachfront land. Located on an exceptionally beautiful beach with clear blue waters protected by coral reefs in front of 2 private beaches,...

Presented by

Exclusive Realty Brasil

PRESTIGE

€ 3,519,300

One of Trancoso´s most exclusive beachfront plots, with an approved project Renowed international architect and developer the best beachfront plot in trancoso still available...

Presented by

Exclusive Realty Brasil

PREMIUM

€ 6,843,100

This beachfront hotel for sale in Trancoso has a total area of 9350m² with 70 meters of beach front. The hotel offers an excellent opportunity for investors to turn it into a...

Presented by

Exclusive Realty Brasil

PREMIUM

€ 17,596,500

Frontline estate with 6.6 km of beachfront, 1,450 hectares in one of the quietest and most beautiful areas of Bahia. The nearby airport has two runways in the shape of an X = 1600...

Presented by

Exclusive Realty Brasil

PREMIUM

€ 3,503,600

The last large plot for sale on the Quadrado of Trancoso, the famous old square with it´s Unesco-protected houses. Allows for ample construction. more details on request...

Presented by

Exclusive Realty Brasil

PREMIUM

€ 13,013,200

The most exclusive beachfront individual building plot with 119 meters of front in the best private beach of Trancoso available! More info on request...

Presented by

Exclusive Realty Brasil

PREMIUM

€ 1,501,500

Beautiful Bahia-style villa for sale located in a prime residential neighborhood of Trancoso (Neighborhood João Vieira), very close to the center (the "Quadrado") and the...

Presented by

Exclusive Realty Brasil

COLLECTION

€ 2,835,000

Beautiful tropical house with 180 degrees oceanview gated community at walking distance from the beaches and the historic square of Trancoso Opportunity - priced to sell quickly...

Presented by

Exclusive Realty Brasil

COLLECTION

€ 2,382,400

One of Terravista Golf´s most beautiful villas with sea and golf views, swim spa, large pool, fitness, massage room, home theatre, indoor and outdoor dining

Presented by

Exclusive Realty Brasil

COLLECTION

€ 2,737,200

Opportunity The best value for money in the highly valued altos de trancoso gated community. Motivated seller. The price today is less than it would cost to build the house on the...

Presented by

Exclusive Realty Brasil

COLLECTION

€ 1,501,500

Opportunity One of the best opportunities on the Quadrado, the historic square of Trancoso 40% Larger front to the Quadrado than most other houses Larger land area Splendid sea...

Presented by

Exclusive Realty Brasil

COLLECTION