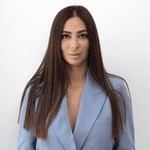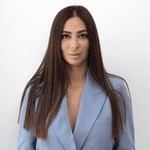 Agent
Khadija El Otmani | Driven Properties
Agency

Driven Properties
Description
Automatic translations use Google Translate and may not be completely accurate. An error occurred during the translation with Google Translate. Please try again later.
Khadija El Otmani is a passionate and expert broker, known for her in-depth knowledge of the Emirati Luxury Real Estate market and her unparalleled dedication to her clients, her success relying almost exclusively on positive recommendations.
She gains the respect of her clients by working tirelessly to offer them a lasting and mutually beneficial relationship, rigorous follow-up and frank advice regarding their luxury investments. She strives to exceed their expectations by offering them her advisory services on all aspects of the Emirates and at all levels (legal, financial, recreational).
Khadija El Otmani, leading Agent of Driven Properties and Co-Founder of Driven Holiday Homes, has been living in the cosmopolitan city of Dubai since 2009, witnessing the rapid transformation of the Emirate and the growth of its market. This expertise allowed her to be elected among the seven most influential CEO women in Real Estate by the magazine PRESTIGE, created and published by the largest real estate platform in the Emirates.
Her detailed knowledge of the region connoting refinement, quality and exclusivity, gives her the enthusiasm and desire to make her home, your home.
Agency

Office No 204 Building 13, Bay Square, Business Bay - Dubai
Description
Established in 2012, Driven Properties has grown into a leading property brokerage, investment, and consultancy company. Our dedicated team of international agents and staff offer a full spectrum of innovative and customizable property solutions and wealth management services to clients in the UAE and abroad.

With extensive experience, our dedicated team of agents boast a portfolio of commercial, residential, retail, and off-plan properties. Our property consultants are well versed in the principles of the real estate market, negotiation, market analysis, property management, and ethical conduct. Our emphasis on area specialization gives us an edge over other agencies. Each agent knows their area in-depth, including the current market prices, in order to keep the client informed during the sales and leasing process. In addition to our brokerage services in Dubai, Driven Properties offers a wide portfolio of international properties in cities such as Paris, as well as partnerships with international agencies.

As a multi-faceted company, Driven Properties also offers in-house asset management, property management, and market advice in addition to property sale and leasing services–a real one-stop-shop.

We also aim to be a reliable source of information on the property and market trends.
Relevance

Max price

Min price

Size

Bedrooms

Newest listed
Price on Application

Brought to you by Driven Properties, this Apartments, Villas, Townhouses, Mansions in Dubai, uae. Palm Jumeirah is the largest manmade island on the planet. Set on the coast of...

Presented by

Khadija El Otmani | Driven Properties

ELITE

€ 5,319,700

Brought to you by Driven Properties, this Apartments, Villas, Townhouses, Mansions in Dubai, uae. Mohammed Bin Rashid City, popularly known as mbr City, is one of the biggest...

Presented by

Khadija El Otmani | Driven Properties

ELITE

€ 2,153,200

Brought to you by Driven Properties, this 6 Bedroom Villa is located in Grand Views, Meydan. Unit Details: * Vacant * Standalone * View: Green Space * Kitchen: Closed and...

Presented by

Khadija El Otmani | Driven Properties

ELITE

€ 11,809,900

Brought to you by Driven Properties, this Apartments, Villas, Townhouses, Mansions in Dubai, uae. Palm Jumeirah is the largest manmade island on the planet. Set on the coast of...

Presented by

Khadija El Otmani | Driven Properties

ELITE

€ 3,799,800

Brought to you by Driven Properties, this 6 Bedroom Villa is located in The Aldea, The Villa. Unit Details: * Luxury Villa G+1 * Plot size: 19,466 sq.ft * bua: 8,392 sq.ft ...

Presented by

Khadija El Otmani | Driven Properties

ELITE

Price on Application

Brought to you by Driven Properties, this Apartments, Villas, Townhouses, Mansions in Dubai, uae. Palm Jumeirah is the largest manmade island on the planet. Set on the coast of...

Presented by

Khadija El Otmani | Driven Properties

ELITE

€ 13,932,600

Brought to you by Driven Properties, this Apartments, Villas, Townhouses, Mansions in Dubai, uae. Palm Jumeirah is the largest manmade island on the planet. Set on the coast of...

Presented by

Khadija El Otmani | Driven Properties

ELITE

€ 3,293,200

Brought to you by Driven Properties, this 7 Bedroom Villa is located in The Aldea, The Villa. Unit Details: * 7 Bedrooms (maid's room + family rooms + study) * Single Row...

Presented by

Khadija El Otmani | Driven Properties

ELITE

€ 2,533,200

Brought to you by Driven Properties, this Exclusive 5 Bed + Study Villa is located in The Aldea, The Villa. Unit Details: * Vacant on Transfer * Standalone Villa w/ Basement ...

Presented by

Khadija El Otmani | Driven Properties

ELITE

€ 13,197,900

Pairing a world-class luxury hotel brand with a sought-after address, Raffles Residences and Penthouses at The Palm Dubai presents a once-in-a-lifetime opportunity for discerning...

Presented by

Khadija El Otmani | Driven Properties

ELITE

€ 4,306,400

Brought to you by Driven Properties, this 5 Bedroom Villa is located in Al Safa. Unit Details: * Vacant * Standalone Villa * Private pool * Elevator * Bathrooms: 6 *...

Presented by

Khadija El Otmani | Driven Properties

ELITE

€ 11,399,400

Brought to you by Driven Properties, this 7 Bedroom Villa is located in Dubai Hills View, Dubai Hills Estate Unit Details: * Shell and core mansion * View: golf * Kitchen:...

Presented by

Khadija El Otmani | Driven Properties

ELITE

€ 8,746,800

Brought to you by Driven Properties, this Apartments, Villas, Townhouses, Mansions in Dubai, uae. Business Bay is one of the trendy residential and professional hubs, set amidst...

Presented by

Khadija El Otmani | Driven Properties

ELITE

€ 1,735,200

Brought to you by Driven Properties, this 4 Bedroom Villa is located in Whispering Pines, Jumeirah Golf Estates. Unit Details: * View: Community * Kitchen: Open & Fully Fitted...

Presented by

Khadija El Otmani | Driven Properties

ELITE

€ 8,776,100

Brought to you by Driven Properties, this Apartments, Villas, Townhouses, Mansions in Dubai, uae. Business Bay is one of the trendy residential and professional hubs, set amidst...

Presented by

Khadija El Otmani | Driven Properties

ELITE