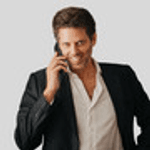 Agency
Jorge Mendes Real Estate AMI: 22509
Avenida Dom Teodoro de Faria, Edf Coopereme, bloco 4, 6o esq - 9000-782 Funchal
Description
Hello and welcome !
My name is Jorge Mendes and I am a Real Estate consultant associated with Keller Williams MADEIRA, I work in this business since 2016 (so, before KW came to the island) since I always had Luxury real estate, I already have a team that is used to work with international clients to help them in all the process.
Despite I am associated with KW, I also work with all the real estate agency's operating here, in Madeira Island, and also in the Portuguese main land.

I already have a lot of experience with international clients, from the United States of America (California, Florida and NY), Germany, United Kingdom, Hong Kong, Ukraine, Russia, Poland, Romania, France, Monaco and Dubai.

I have a degree in sports sciences from the Faculty of Human Motricity in Lisbon and a postgraduate degree in Marketing from Portuguese Catholic University, in Lisbon as well.

I worked at the Tivoli Hotel Group for 13 years as Technical Director of the Gym and as I always liked challenges and getting out of my comfort zone, in 2016 I decided to come to the real estate business as a consultant.
For me, it was relatively easy, due to my contacts, the customer service experience in the Tivoli group, my training in Marketing and also because my father was a Civil Engineer and he explained some important details in the construction of houses when I was a kid.

What attracts me most in this profession, is to find the dream house, or the desired business as an investment by my clients. Make the dream come true!
For my clients who wish to sell or buy, my goal is to always sell as quickly as possible, at the best price.

For this reason I always try to have in my portfolio several types of properties, with very different characteristics, but in which I above all feel that It has a good potential in the market and that I am doing a good service to my clients.

I always try not to have a very high number real estate to sell, so that I can have the proximity with the owners and buyers that is always so desired in this type of business.

Do you want to know what some of my client's say about me ?
Do a google search with "jorge mendes real estate" and you will find it.

If you want to sell or buy properties and would like to do so with a specialist in the area, contact me.
Relevance

Max price

Min price

Size

Bedrooms

Newest listed
€ 2,600,000

Luxury house with spectacular views for sale in Funchal Have you ever imagined living in a luxury home with a spectacular view of the sea and the city of Funchal? This is your...

Presented by

Jorge Mendes Real Estate AMI: 22509

ELITE